HOME >
Measuring Instruments >

AC High Voltage Clamp Meter
HCL-36UX Digital Clamp Current Tester for High Voltage
Added slim ver.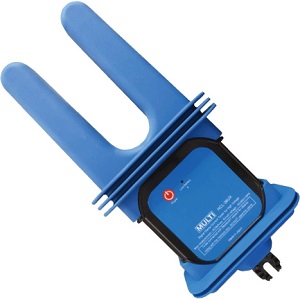 1, No need to clamp on the overhead distribution line up to 36kV for load current measurement.
2, Max 25th order Harmonics current measurement by using our APP without cut the insulation layer.
3, Structure resistant to drop impact.
4, Added slim ver.
FEATURES
・Display measurement value on your smartphone through blue-tooth connecting.
・Measurement value can be kept in the our cloud server.
・In addition to measured values, location registration by GPS, temperature, date and time can also be saved.
SPECIFICATIONS
Measuring function
AC load current
CT shape
Type U
CT Inside diameter
55.4mm
Measuring range
AC 1~330A/3000A (2 range Auto)
Accuracy
±1%rdg±2dgt
Minimum resolution
0.1A
Measurable harmonics
Fundamental to 25th harmonics current by using our APP"Multi-Tracer"
Applicable frequency
50~60Hz
Sampling rate
Two times / second
Insulation resistance
100MΩ or more by DC 1000V insulation tester (Between hot stick connector and core of CT)
Limitation of circuit voltage
AC36kV
AC24kV with slim ver
Protection standard
IP54
IP52 with slim ver
Withstanding voltage
AC43.2kV/5min (Between CT and the hotstick grip)
AC28.8kV/5min with slim ver(Between CT and the hotstick grip)
Operating temp & humidity range
-20~60℃ 20~96% Lithium battery
5~45℃ 20~96% Alkaline battery
Power supply
AA size battery×4
Dimension / Weight
W179.6×H400×D90.4mm
Approx 1550g
Approx 930g with slim ver
Optional accessory
MDU-100X/MDU-200X (display unit)