HOME >
Measuring Instruments >

AC High Voltage Clamp Meter
MHR-600 For Overhead Distribution Line Current Tester with Power Flow Direction Record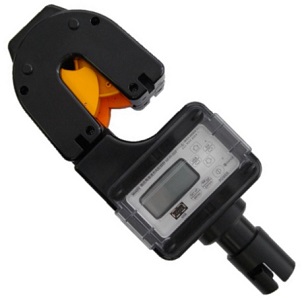 Can measure and record line current & power flow direction of overhead distribution lines.
FEATURES
・Measuring and recording the average current values & power flow directions in the setting interval.
・Easy to use, as an indirect hot-line work tool.
・Memorized data can be outputted to USB memory
after measurement.
・For 6.6KV circuit, protection level IP64.
SPECIFICATIONS
Measuring Function
AC Current and Power Flow Direction
Measuring Scope
AC1A~600A 50/60Hz
Measuring Range
60.0A/600A(Auto)
Accuracy
±3%(full scale to each range)
Current Detection
True RMS
Display
AC Current:LCD Display
Flow Direction:LED (Red) blinking when reverse flow

Record Contents
Current Value/Flow Direction/Month:Date:Time
Record Interval
0.5/1/5/30/60sec
Record Capacity
Approx.. 690k data
Record Output
Internally memorized and output to USB (CSV)
Capable Conductor
Inside Diameter:φ9 ~ 25mm(Insulated)
Circuit Voltage
AC7kV
Temp. Range(Accy)
-10℃~+50℃
-ditto- (Operation)
-20℃~+60℃(Operation within ±6%F.S.)
Structure
IEC529 IP64
Power Supply
AA size alkaline or lithium battery ×6
Dimension/Weight
W133×H365×D110mm approx.. 2.3kg