HOME >
Measuring Instruments >

Io/Ior Leakage Clamp Meter
M-340IRV Non-contact Io/Ior Leakage Clamp Meter
Io/Ior AC Leakage Clamp Meter φ40mm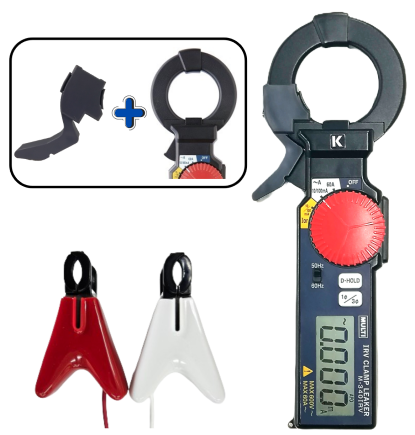 Integrated Ior Clamp Leaker with Non-contact Voltage Input Sensor
FEATURES
・Safety by non-contact sensor, not touching live part directly (prevention of electric shock, short-circuit, etc.).
・Easy to carry and operate, clamp CT + display part integrated type.
・Measurable line current + leakage current + resistive leakage current by one unit.
・Palm size mini clamp type.
・High accurate measurement with min. resolution 0.001mA.
SPECIFICATIONS
Measuring Function
Line Current
Leakage Current
Resistive Leakage Current
Available Circuits for Ior Measurement
1P/2W, 1P/3W, 3P/3W
CT Inside Diameter
φ40mm
AC Current Range
10mA/100mA/60A
Minimum Resolution
0.001mA
Other Function
Over Range Display, Data Hold, Low Battery Indication, Auto Power Off
Sampling Rate
Two Times/Second
Operating Circuit Voltage
Less than AC500V (Isolated Electric Wire)
Operating Temp. & Humidity Range
0~50℃ Less than 85%RH (w/o condensation)
Power Supply
AAA Size Alkaline Battery x 3
Dimension/Weight
W44×H197×D24mm Approx.210g
Accessories
Carrying Case, Non-contact Voltage Sensor, Instruction Manual