HOME >
Thermometers, Thermohygrometers, Anemometers >

Measuring instruments, Testers
Local-area network testers, Communication line testers, Related products
Field testers, Related products
Thermometers, Thermohygrometers, Anemometers
Atmosphere analysers, Gas analysers
Water quality measuring instrument, Analysers
Data Logger (Temp/Humidity)
LS1000 Multi Function Data Logger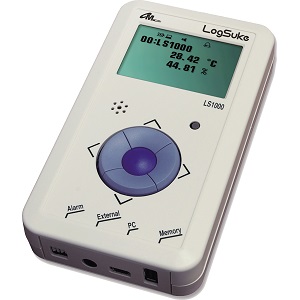 FEATURES
● Various sensors can be connected externally.
It is possible to record the measured value and capture it into the PC, on each sensor.
● Due to USB memory can be inserted directly, recording data can be collected.
Application software can be downloaded for free.
● In addition to the internal temperature/humidity sensor, up to four external sensors (sold separately)
can be connected, and multiple measurement values can be recorded simultaneously.
SPECIFICATIONS
Measurement Channel
Temprature :1ch (internal)
Humidity :1ch (internal)
Measuring range
Temprature :5~40℃
Humidity :20~70%RH
Accuracy
Temprature :±0.8℃
Humidity :±4%
Alarm Output
normal open (DC30V, 2A)
Storage Capacity
65000 points
Power supply
AA battery×2
Dimension
W76×H135×D27mm
Weight
160g
Accessory
Sensor connection cable×1m
Optional Accessory
Voltage sensor, Thermocouple sensor, Current sensor, Temp/Humidity sensor