HOME >
Measuring Instruments >

AC/DC Clamp Meter/Leakage Clamp Meter
M-600 AC/DC Clamp Milliammeter (CE)
30mmφCT, AC/DC leakage current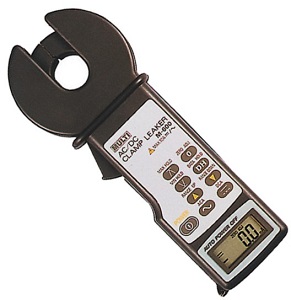 AC/DC Leakage Current, 200mA/2000mA/10A
True rms reading, 20mmφCT
The world first AC/DC leakage current clamp tester (CE)
FEATURES
True rms reading for AC current measurements.
The least affection from the external magnetic field and noise with double shielding of CT.
4~20mA loop current measurements for control circuit.
Sleeping current measurements for automotive service.
Max. and Min.hold function.
Data-hold function and auto power off.
Auto zero adjustment for DC current offset.
0 available in stock as of August 11, 2020
INQUIRY
SPECIFICATIONS
Safety standard
IEC61010-1, IEC61010-2-032
Installation CategoryⅡ 300V
Measuring method
Dual slope integration mode
AC Conversion
True rms responding
Jaw opening capability
20mmφ
Measuring Range
AC/DC 0~200mA/2000mA/10A
Display
3.5digit LCD max. reading of 1999
Accuracy
(23℃±5℃, 80%RH or less)
Range/Input range/Resolution/Accuracy
AC 200mA/0~1999mA/100μA/±1.0%rdg±5dgt (50/60Hz)
AC 2000mA/0~199.9mA/1mA/±1.0%rdg±5dgt (50/60Hz)
AC 10A/0~9.99mA/0.01A/±1.0%rdg±10dgt (50/60Hz)
DC 200mA/0~199.9mA/100μA/±1.0%rdg±3dgt
DC 2000mA/0~1999mA/1mA/±1.0%rdg±3dgt
DC 10A/0~9.99mA/0.01A/±1.0%rdg±10dgt
Error by hysteresis of hall effect :±3%rdg
Over range indication
"OL" mark on LCD
Data hold indication
"DH" mark on LCD
Low battery indication
"B" mark on LCD
Min. memory function
"Min" mark on LCD with min. value
Max. memory function
"Max" mark on LCD with max. value
Polarity
"-" sign for negative polarity
DC current zero offset
By push button switch
Auto power off
Approx. 10 minutes later after power on
Sampling time
1.6 times/sec
Storage Temperature
-10℃ ~ 60℃ < 75%RH ( without condensation )
Operating Temperature
0℃ ~ 50℃ < 80%RH ( without condensation )
Power supply
1.5V (AM-3, LR6 or AA)×2
Limitation of circuit voltage
Less than AC/DC 300V
Battery life
Approx. 120 hours or more
Withstanding Voltage
AC 2300V 1 minute max. (Between the core of CT and outer case)
Size
76(W)×194(H)×30(D)mm
Weight
Approx. 340g
Accessories
Carrying case:1
Instruction manual:1
Batteries:2